DRUKAIR [Royal Bhutan Airlines] is the national carrier of the Royal Government of Bhutan, operating to seven cities in six countries. The airline operates 3 Airbus A319 and 1 ATR planes.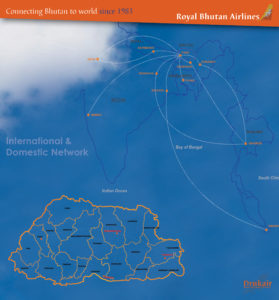 Drukair Royal Bhutan Airlines operates flight services to 5 countries and 10 international destinations operating from Paro International Airport as its hub. Within Bhutan we offer domestic services to Bumthang and Trashigang.
CHECK IN:
The reporting time is two hours prior to flight departure. All counters are closed 30 minutes prior to the scheduled departure of the flight.
RESERVATION:
For all your travel requirements, please contact YANA Expeditions, Inc.
RECONFIRMATION:
All reservations must be confirmed at least 72 hours before scheduled departure. Failure to reconfirm will result in cancellation of booking without any notice.
VALIDITY:
Ticket issued against full fare is valid for a period of one year, except as otherwise provided in the ticket.
SERVICE TAX ON BUSINESS CLASS:
All business class passengers embarking from India are subject to an additional 12.36 per cent Service Tax on the airfare inclusive of surcharges and taxes. The tax will be collected at the time of issuance of ticket. If mistakenly omitted, the airline check-in personnel will collect the tax. Service Tax is not applicable to U.N. Agencies. This is as per the directives issued by the Service Tax Directorate, Government of India.
CHANGE IN FARES:
Fares are subject to change without notice. In the event of a passenger commencing journey after the revised tariff becomes effective, the difference between the fare paid and the fare applicable will be collected from the passenger before embarkation.
CANCELLATION AND REFUND:
Refund of the ticket can only be made the issuing office. For conditions for refund, please contact YANA Expeditions, Inc. NO REFUND CAN BE MADE AGAINST LOST DOCUMENTS. Passengers are particularly requested to note that tickets are cash value documents and must be physically presented for refund.
NO-SHOW:
There will be a rebooking administration fee of US$ 25 (Two Five) for No-Show passengers wishing to travel at a later date.
VALUABLE ARTICLES:
Currency, precious metals, jewellery, negotiable instruments, securities, personal identification documents and other items of value are best carried with the passenger in the cabin.
FREE BAGGAGE:
Following registered baggage is allowed free of charge:
| | | | |
| --- | --- | --- | --- |
| CLASS | ADULT | CHILD | INFANT |
| Executive | 40 Kg | 40 Kg | Nil |
| Economy | 30 Kg | 30 Kg | Nil |
Unless otherwise stated by the ticketing carrier, the free baggage allowed when traveling under discounted fares shall be the same as that of full fare paying passengers.
HAND BAGGAGE:
To comply with the security regulations, passengers may carry one hand baggage which comprise:
A lady's handbag
An overcoat or a wrap
An umbrella or a walking stick
A small camera and a pair of binoculars
A reasonable amount of reading materials for the flight
For invalid passenger, a fully collapsible invalid wheel chair and/or a pair of crutches.
All other items, such as typewriters, briefcases, overnight bags, personal radios, vanity cases, large cameras, etc. will be weighed with other baggage, and will be subject to payment of excess baggage charges if the total weight exceeds the free baggage allowance.
DANGEROUS GOODS:
For safety reasons the following articles are not allowed to be carried in passenger baggage:
Compressed gases (non-inflammable and poisonous)
Corrosives (such as acids, alkalis and wet cell batteries)
Explosives, ammunitions, fireworks and flares.
Flammable liquids and solids (such as lighter and heating fuels, matches and articles which are easily ignited)
Oxidizing material (such as bleaching powder and peroxides)
Poisons
Radioactive materials
Other restricted articles (viz., mercury, magnetized material, offensive or irritating material.
Briefcases or attache cases with installed alarm devices, or incorporative lithium batteries and/pyrotechnic material.
Also carriage of dry cell batteries, knives, scissors, sharp instruments, tools, fire alarms, and ammunition, toy replicas are prohibited in the passenger cabin.
Note: Medicinal and toilet articles which are necessary for a passenger during the journey, may be carried in small quantities in the passenger cabin without prior approval.
DRUK AIR IN-FLIGHT SERVICES:
Meals are served after a flight is airborne for reasonable duration:
The timings are:
| | |
| --- | --- |
| Breakfast | 0700 – 1030 Hours |
| Lunch | 1030 – 1430 Hours |
| Dinner | 1830 – 2130 Hours |
On one-hour sector flight, snacks are served. Refreshments and drinks are served throughout the duration of the flight.
IMPORT REGULATIONS:
BHUTAN:
– 200 cigarettes on payment of import duty of 200 %
– Alcoholic beverages up to 1 litre
INDIA:
(Import by non-residents is only permitted if they either enter India for a stay of not less than 24 hours and not more than two months, provided they visit India not more than once a month.)
A person of 17 years and older is allowed:
– 200 cigarettes or 50 cigars or 250 grams of tobacco
– One bottle (0.95 L) of alcoholic liquor
– 2 ounces of perfume and 1 litre of toilet water
NEPAL:
– 100 cigarettes or an equivalent of other tobacco articles
– 1 quart of alcoholic liquor
– A reasonable quantity of perfume for personal use
THAILAND:
Each passenger holding a passport of his/her own, irrespective of age is allowed:
– 200 cigarettes or 250 grams of tobacco or equal weight of cigars
– 1 litre of alcoholic liquor
Rules for taking Liquids, Aerosols and Gels through Suvarnabhumi Airport (Thailand):
If you wish you to take liquids, and gels which include items such as drinks, creams, perfumes, sprays, gels, toothpaste, lipstick, lip balm and similar substances. Items through the screening point as "carry on" make sure:
Each item is 100 ml or less
All items fit in a transparent, one litre bag (about 20 x 20 cm)
The bag is sealed
Only one bag per person is allowed
If the items weigh more than 100 ml, place them in your check-in baggage. Kindly adhere by the rules as items once seized are not returned.
CARRIAGE OF FIREARMS:
Carriage of firearms, ammunition, and other weapons on the passenger's person is expressly prohibited. These should be handed over to Drukair before embarking for delivery at the destination.
SECURITY REGULATIONS:
According to security regulations, passengers are advised:
Not to accept any baggage/packet from unknown persons.
Not to leave baggage, unobserved at anytime especially within airport area. Unattended baggage may be removed by Airport/Security Staff as object of suspicion.
To declare before check-in, if carrying any arms or explosive substance. Concealment is an offence under Aircraft Act & Rules.
To carry only one hand baggage. Its sum of three dimensions (viz. length, breadth and height) should not exceed 100 cms.
To remove battery cells/dry cells from radios, transistor sets, two-in-ones and other such electrical/electronic items and hand them over to the airline staff before security check or carry them in registered baggage.
SECURITY CHECKS:
All passengers and their baggage are subjected to security checks before boarding a flight. Transit passengers are therefore requested to remain on board at transit stations as, otherwise, they will be again subject to security checks.