HOTEL ZHIWA LING, PARO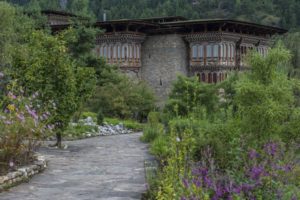 The 45-room Zhiwa Ling combines the sensibilities of a fine Bhutanese guesthouse with the best of 21st Century technology. Envisioned and created by a local Bhutanese company, the hotel's elaborate hand-carved wooden cornices and masterful stonework coexist beautifully with cutting-edge telecommunication systems and Swedish under-floor heating.
The spa offers all the amenities of a modern fitness center – sauna, steam room, gym – as well as a traditional Bhutanese outdoor hot-stone bath. There is a Business Center, and a Tea House, two fully-equipped conference rooms and a Meditation House. One restaurant specializes in contemporary international cuisine, the other classic Bhutanese dishes. And everyone gathers at the Mad Monk Bar for after-hours fun.
Honoring the spiritual heritage of this ancient Buddhist kingdom, a temple has been built into the second floor of the hotel, made with 450-year-old timbers from the famous Gangtey Monastery, the crowning glory of this new ten-acre cultural landmark in the quiet Paro Valley where Zhiwa Ling fully lives up to its name: Place of Peace.
ZHIWALING ASCENT, THIMPHU
Retreat from the hustle and bustle of Thimphu city to Zhiwa Ling Ascent – Bhutan's first contemporaryconcept hotel. Located just outside the centre of the city, Zhiwa Ling Ascent welcomes you to relax in a park-like setting with panoramic views.
Enjoy first class hospitality by an attentive team of professionals and trainees from the Royal Institute of Hospitality working toward a qualification in the hospitality industry. Relax in one of 20 spacious rooms designed in the most energy efficient way to capture all day sunlight and take in superb views of the surrounding scenery. Zhiwa Ling Ascent is an ambitious project conceived by Austrian architect Irene Ott-Reinisch and realised through a joint collaboration between Bhutanese and Austrian project planners. It is wholly Bhutanese owned and operated.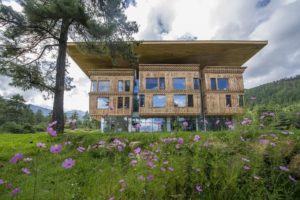 UMA COMO By COMO, PARO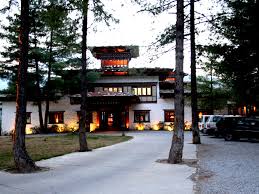 With Uma, expect an holistic, cultural adventure, complemented by the core of the COMO Shambhala experience, featuring yoga and Asian-inspired therapies devoted not just to the body but to spiritual wellbeing.
Uma is ecologically aware, respecting the land in which its retreats are located. In design, each hotel reflects local aesthetics, combining indigenous detailing with a serene modernity, keeping the number of rooms deliberately limited.
In cuisine, Uma incorporates local organic foodstuffs with sophisticated Asian-led traditions. Uma also acknowledges the greater wisdom of ancient cultures and the powerful salve of un-spoilt spiritualism.
Indeed, Uma offers more than the usual five-star hotel experience, but the opportunity to discover subtle layering of landscapes and forgotten people. Enjoy this within the calming environment of each hotel's location or by active exploration of the surrounding region.
UMA COMO By COMO, PUNAKHA
With nine hillside Valley View rooms, and two free-standing luxury private villas (one One-Bedroom Villa
and one two-bedroom COMO Villa), COMO Uma Punakha provides luxury in the wilderness in signature COMO style. Our Bukhari restaurant serves both local and international cuisine, while our standalone COMO Shambhala Retreat offers traditional holistic therapies.
LE MERIDIEN, THIMPHU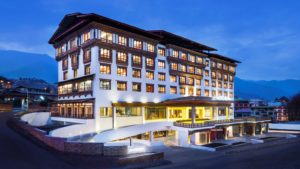 Located in the heart of the capital city, Thimphu, the Le Méridien Thimphu invites the discerning guest to engage and discover the legendary 'Land of the Thunder Dragon', Bhutan. Our 78 spaciously appointed guest rooms & suites are culturally inspired, yet decidedly chic and contemporary.
With cosmopolitan surroundings amidst the bustling commercial streets of the city-centre, and a convenient location to many of the city's myriad attractions, the Le Méridien Thimphu is a compelling choice for hosting business meetings, and the perfect jumpstart to that long awaited leisurely holiday.
LE MERIDIEN, PARO
With a compelling location close to Paro International Airport, Le Méridien Paro, Riverfront is the idealplace to stay and explore Bhutan. Unlock this holistic destination with attractions including sacred fortresses and monasteries.
The hotel is equipped with 59 contemporary and elegant guestrooms, offering a minimum size of 32 square meters. All rooms feature heated bathroom floors and windows capturing the unbounded view of the river and mountains. Relax in a curated space featuring flat screen TV, wired and wireless High Speed Internet Access, sleek technology and a separate bath and shower to ensure a relaxing stay.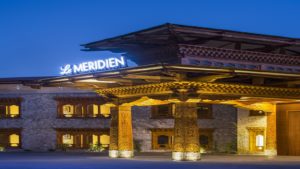 TERMA LINCA, THIMPHU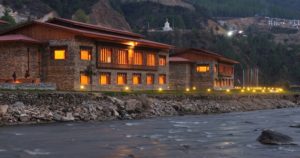 Nestled in a private oasis of panoramic tranquility lies an elegant stretch of Bhutanese architectural gems strung together to embody the spirit of Terma Linca. Flanked by lush paddy fields and snow-fed waters of the Wangchhu River, Terma Linca enjoys an unparalleled bucolic setting strategically situated merely five kilometers away from the urban expanse of Thimphu town.
Something about the location, the architecture, the understated elegance and the refined simplicity of the interiors causes an almost magical hush to descend upon the visitor as they cross over into the threshold of this unique, world-class resort.
Pemako, THIMPHU
The Taj Tashi, Thimphu is an ideal place from which to discover Bhutan's spectacular monasteries and
centuries-old street festivals, or explore its pristine wilderness areas, much sought-after by adventure and wildlife enthusiasts.
Located in the heart of Bhutan's capital city, Taj Tashi is a blend of traditional Bhutanese Dzong architecture and modern design. The 66 elegant guestrooms, with dramatic hand-painted walls and ceilings motifs, offer majestic views of mountains surrounding the Thimphu valley.
Well-appointed spaces within the hotel reflect the charm of Bhutan's art and culture. Burnt ochre and charcoal walls contract with intricate hand-painted Buddhist murals.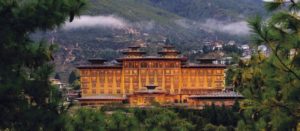 AMANKORA – PARO, THIMPHU, PUNAKHA, GANGTEY GONPA & BUMTHANG
Combining the word "aman" (or peace in Sanskrit) with "circular journey" in Dzongkha, the Bhutanese language, Amankora is a series of lodges in Bhutan's central and western valleys Paro, Thimphu, Punakha and Phobjikha. Amanresorts has been accorded a great privilege in being the first international hotel company permitted to open in the Kingdom of Bhutan. Together they provide an ideal circuit for discovery of cultural traditions unchanged over centuries.
AMANKORA PARO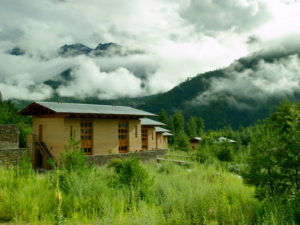 There are six dwellings with four suites each, two on the ground floor and two on the upper floor. The 24 suites are similar in design featuring natural rammed-earth walls, gently sloping roofs and wood-panelled interiors with a king-size bed, a traditional bukhari (wood-burning stove) and a large terrazzo-clad bath.
AMANKORA THIMPHU
Two dwellings house a total of 16 suites, featuring a combined living and bedroom that includes a king-size bed, a reading chair and a window banquette providing views across a landscaped courtyard or directly onto the nearby stream and pine forest. Room interiors feature combined wood panel and chocolate brown walls. The traditional bukhari is positioned between the bedroom and the bathroom. The spacious bathroom opens from the bedroom and provides a terrazzo-clad bath that enjoys a view through a vertical slot window. A shower, toilet and twin vanities and hanging space complete the bathroom. The suites are individually heated during the cold winter months.
AMANKORA PUNAKHA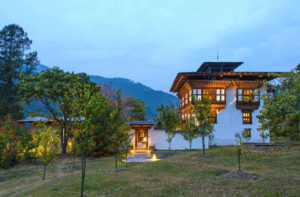 Eight suites, located in three rammed-earth dwellings, are situated in an orange orchard with views across the rice fields and back up the Punakha Valley. The suites are identical to the design of the suites at Amankora Paro, featuring wood panelled interiors, a traditional bukhari, king-size bed, terrazzo-clad bath, shower and vanities, and day bed. Suites are individually heated during the cooler winter months and air-conditioned in the summer months.
AMANKORA GANGTEY
The eight suites are identical to those of Amankora Thimphu, offering an open plan bedroom and bathingarea. The aesthetics combine wood panelling and chocolate brown walls, the traditionalbukhari, terrazzo-clad bath, shower and vanity, and daybed offering views across the valley. Suites are individually heated during the cold winter months.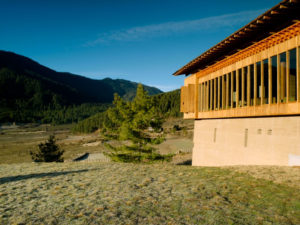 AMANKORA BUMTHANG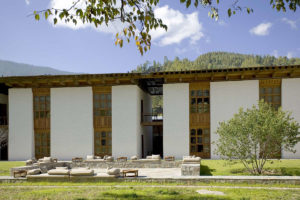 Accessed through an impressive stone-clad hallway, 16 guest suites are situated in four separate dwellings, each containing two suites on the ground floor and two on the upper floor. Each suite features wood-panelled interiors, a traditional bukhari, king-size bed, terrazzo-clad bath, shower, twin vanities and daybed overlooking the courtyard and nearby Wangdicholing Palace and monastery.
GANGTEY LODGE
Gangtey Lodge, with its spectacular setting and sweeping views over the valley, acts as a luxurious base andjumping off point for a series of half and full day adventures and excursions.
From October through to March, one of the world's rarest migratory birds – the Black-necked Crane – migrates from Tibet. Gangtey (Phobjikha) Valley is one of the best places in the world to view these amazing birds, with over 10% of the world's population spending the winter months here.